Artificial Lawn made in Australia
Green Planet Grass only supplies and installs synthetic lawns made here in Australia. We have a large range of grasses for landscaping homes, commercial premises and public open spaces, for various sporting surfaces and for use in child care centres.
All our landscaping lawns have been chosen to look realistic in Australian gardens. One of our most popular grasses, Earth, is designed to look like a well-kept Perth Buffalo lawn. With its broader blades and "dead bits" it's extremely realistic and doesn't look at all like fake lawn. It also has the added benefit of being cooler underfoot on a sunny day.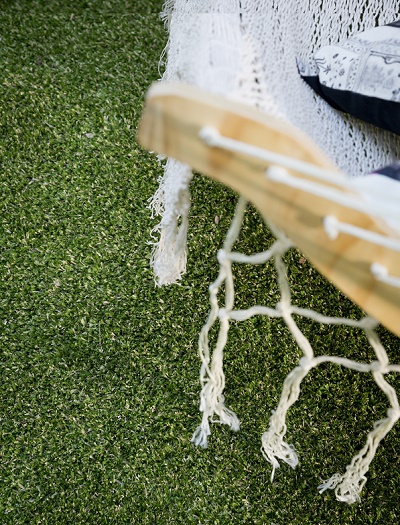 Our grasses are manufactured in Australia for Australian conditions. They're UV stabilized with a resistance to the degrading effects of UV. This is very important, particularly in our harsh Australian climate. Our artificial lawn is also heat stabilized to protect against the hot Australian summers.
Unlike some imported products which contain heavy metals, only safe & stable compatible pigments are used containing no toxins and posing no health risks. Our grasses are quality certified by the International Standards Organisation (AS/NZS ISO 9001:2008).
All our grasses are fire retardant, an extremely important factor when installing synthetic lawn around the home and in day care centres.
Another one of the many benefits of choosing artificial lawn made in Australia, is that the warrantee is enforceable with a manufacturer based in Australia. Companies based overseas have little interest in dealing with any problems that may occur once the product is sold.
For more information on our Australian Made synthetic lawn or to organize an obligation free measure and quote, phone 08 9209 2669.
At Green Planet Grass our Australian Made synthetic lawns don't look like fake grass.