Apartment and Rooftop Garden Installations
Green Planet Grass has been installing artificial lawn in all sorts of unusual places for the last 9 years or so.  In fact, there are very few areas where this can't be done including Apartment and Rooftop Garden Installations.
Synthetic grass is a far more appealing options than areas of concrete or tiles and can give even an inner-city balcony or rooftop the look and feel of a lush garden.  Artificial lawn can be used in conjunction with other landscaping surfaces & finishes and compliments garden beds, pots and water features.
We've recently completed an installation at a block of high rise apartments in the city.  This installation included re-surfacing the tennis court & surrounds as well as installing synthetic grass to a large outdoor area used for BBQ's and relaxing.  We even added a putting green and chessboard for the use of the residents and their visitors.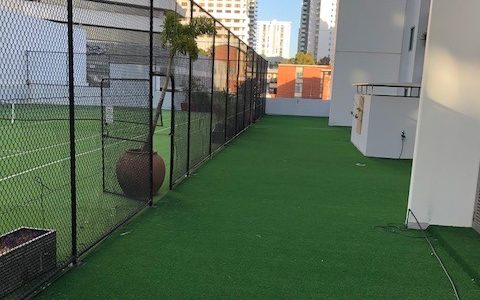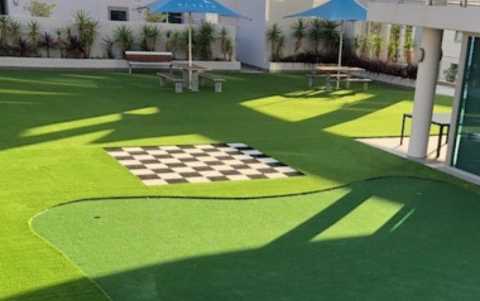 For some projects of this type, water drainage cell and Geotextile membrane is required to facilitate the necessary drainage.  Water drainage cell is placed on the surface then covered with Geotextile membrane to create a barrier to prevent the sand infill blocking the water cells.  Synthetic grass is then placed over the membrane and the sand infill is spread on top and groomed into the lawn.
Green Planet Grass will take care of all the details & logistics, including the hiring of cranes for reaching difficult to reach areas.  We can transform your outdoor area with a minimum of fuss and inconvenience.  Once the job is completed the installers will make sure that your Rooftop Garden or Balcony is left in a clean and tidy condition for the immediate use of residents or the public.
At Green Planet Grass our Australian Made synthetic lawns don't look like fake grass.
Call Green Planet Grass on 9209 2669 today!