What our Customers
say about Us

Trish
I've had my Green Planet Grass artificial lawn down since August 2012 and there's not been a single day in those six years that I have ever regretted my decision!
Yes I did worry, a LOT, when I was making the decision to go artificial grass. In 2006, I had spent a huge amount of money having the previous grass ripped out and replaced with a Palmetto Buffalo which was just lovely. It used to die off in winter in patches so I always had to do a weed spray and repair come Spring but it was a nice lawn. Now I am a dog owner and worse, I love giant dogs. Back then my Great Dane was TJ and he was a very precious soul. He'd wander out onto the grass, do a wee and then skedaddle back inside. I did have visiting and rescue Great Danes to stay but as TJ wasn't a big runner, neither were they. Then TJ died and I adopted Luni Tunes, another Great Dane.
That expensive Palmetto was no match for Luni and over a hundred of her closest friends! Within a year of Luni arriving, my lush lawn was brown pee patches and scratched up clods of earth. When Great Dane dogs play, they kick off with huge force and they run towards each other and body slam standing up. Imagine around 150kg of dogs doing zoomies and that's only when there's two. Finally in 2012 when I was babysitting another Dane, I was terrified of them doing a cruciate from running at full speed off the mud pit (other's call it a lawn patch) onto the paving. As soon as our guest left, I called around for quotes on fake grass.
The Green Planet Grass company won me over based on the product quality, great warranty and a product suited to the UV level in Australia. On top of that they assessed my challenge of having 65-85kg dogs playing, running and most importantly toileting on it! They kept my reticulation in, used an anchoring border to prevent it being lifted and the cream on the cake was a product called Pet Fill. This very fine organic matter was laid as one of the last parts of the installation and was applied to manage odours. Giant dogs do giant wee's and poops and a lot of people complain about odours with their artificial grasses.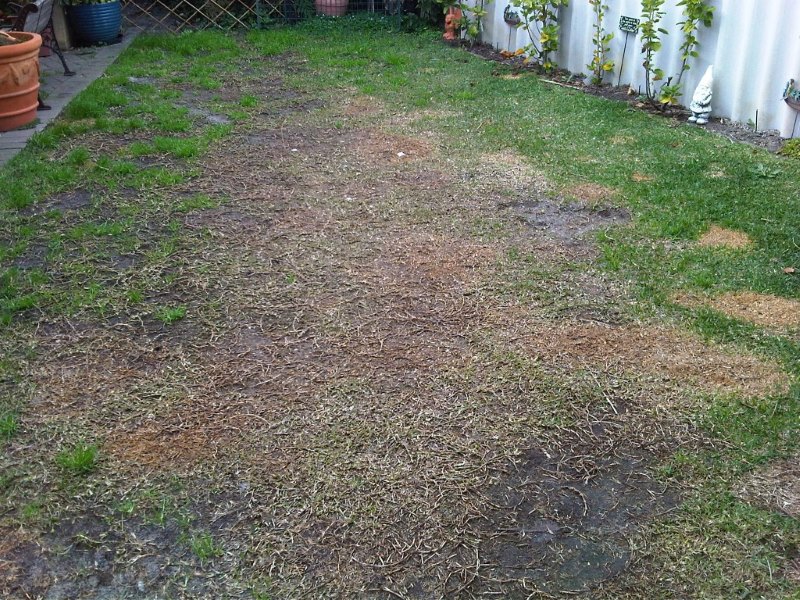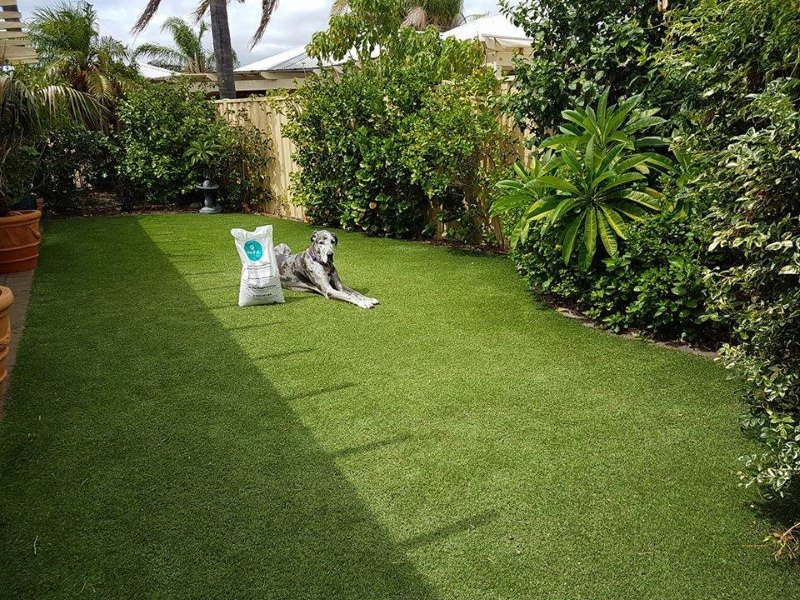 In the six years since mine has been down, I have never even once had anyone who visits, tell me there is an odour. In fact, it is the opposite and people are in awe of how real, good looking and easy my grass is. The lawn was laid in the first week of August and a week later I had a visiting Dane staying who had the worst gastro I've ever seen. A Great Dane gastro case has to be seen to be believed. I remember thinking 'Well, this will certainly test the Pet Fill stuff!" I couldn't even pick his effluent up. I simply had to hose it down into the lawn. Perfect result. No pongs at all. In the years since, between my retic in summer and winter rains, the Pet Fill has consistently and 100% managed the odours from my own Great Dane and sometimes when friends come to stay, up to 4 Danes. This year, I bought some new bags of the Pet Fill and spread it out over the lawn to ensure that I keep a smell free yard and Luni was happy to pose alongside the bag.
I have no hesitation in recommending both the Green Planet Grass artificial lawn and the quality installation, along with the Pet Fill product. My yard is now a joyful part of our lives rather than a frightening and chore laden element. It most certainly is NOT a smelly part of it either. Too easy all round!
At Green Planet Grass our Australian Made synthetic lawn doesn't look like fake grass
Contact us today on 9209 2669 for an obligation free measure and quote or visit our display centre