Artificial Lawn on Balconies
Just because you live in an apartment, doesn't mean you can't have your own patch of lush green lawn. Using Green Planet Grass's Australian made, premium grass products, means that your "fake grass" doesn't have to look like fake grass. In fact, you and your guests will have trouble picking the difference between ours and the real thing.
Green Planet Grass has been installing artificial lawns in all sorts of places for the last 8 years or more.
We've recently completed an installation south of the river on an apartment balcony. Our customer was extremely happy with the care taken by the installers to move all his outdoor furniture & pot plants inside (onto felt provided by GPG to protect his indoor flooring), complete the installation and replace everything before leaving.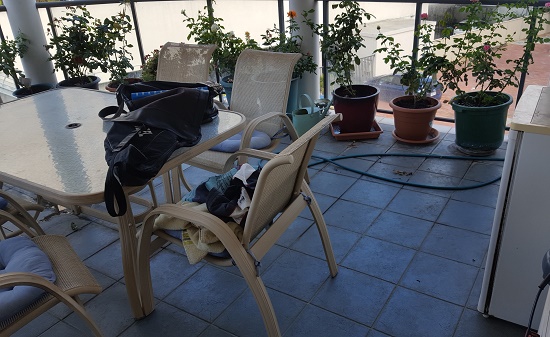 South Perth balcony before installation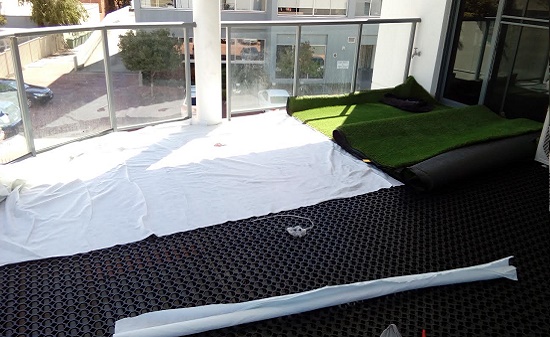 South Perth balcony during installation showing water drainage cell and Geotextile membrane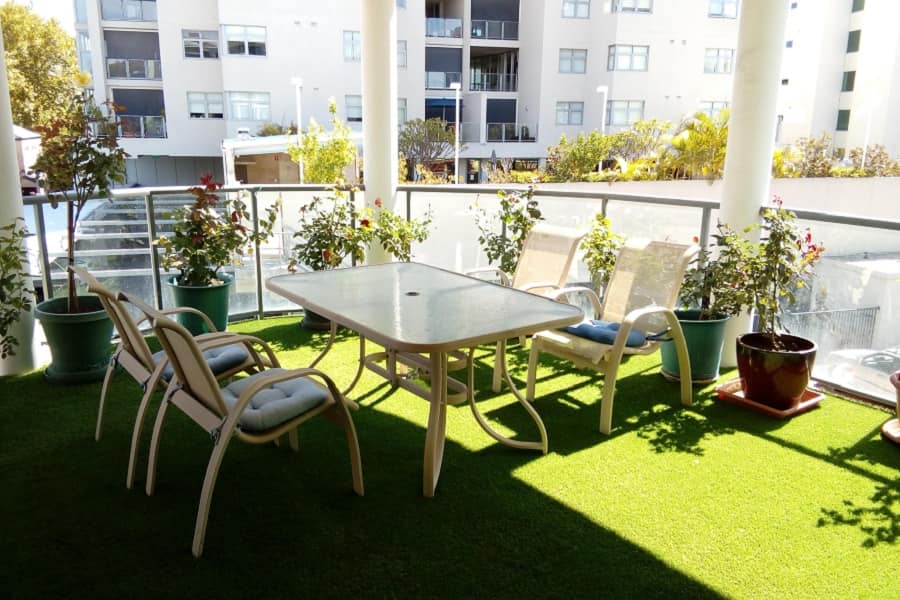 South Perth balcony – completed installation and all pots & furniture replaced.
Installation on a balcony may require a layer of water drainage cell which is then covered with Geotextile membrane to create a barrier to prevent the sand infill blocking the cells. Synthetic grass is then placed over the membrane and the sand infill is spread on top and groomed into the lawn.
The water drainage cell, Geotextile membrane, synthetic grass and sand infill all had to be brought up in the lift and carried through the apartment. This was done with a minimum of fuss and without causing any mess or damage.
The apartment now has a natural, green outlook that's soothing and relaxing. Our very happy customer will have many years of pleasure from his new, low maintenance outdoor area.
If you have a balcony that needs freshening up and a new look, call Green Planet Grass on 08 9209 2669 to arrange for a free consultation at a time to suit you.
At Green Planet Grass our Australian Made synthetic lawns don't look like fake grass.