Green Planet Grass has been installing synthetic grass in Perth's retirement villages and aged care facilities for over 10 years.
These installations have included landscaping grass, bowling greens, mini-golf courses and various other play & recreational areas.
Artificial grass is a versatile product that can be used effectively & creatively, not only outside for gardens, sports & play areas but also on balconies and even inside buildings.  It's aesthetically pleasing & extremely durable and has the added benefit of requiring no watering, fertilizing, weed spraying or mowing.  As well as reducing costs, there will no longer be the noise of mowers & blowers to disrupt the peace and serenity of your facility.
When installed professionally, synthetic turf provides a secure, level & stable footing, reducing the risk of tripping & falling.  Artificial grass also makes an efficient surface for the use of frames & wheelchairs.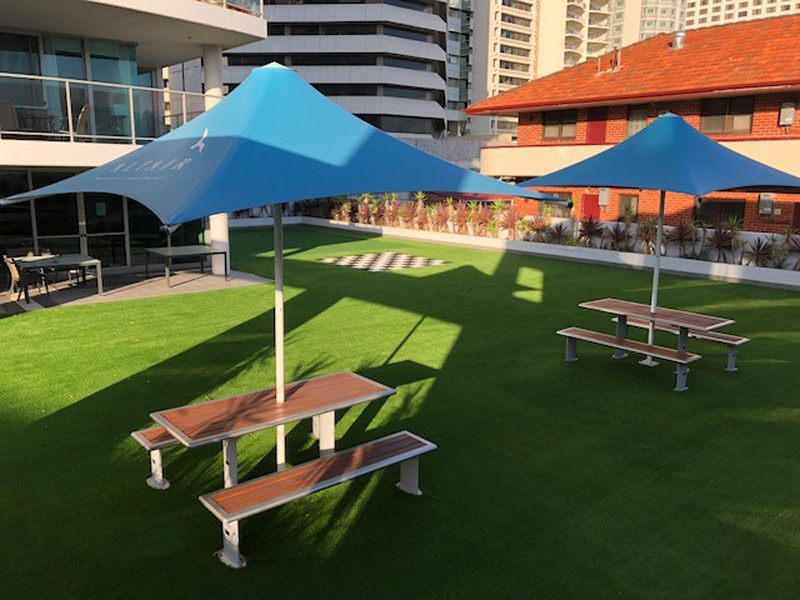 Green Planet Grass can also include a layer of Shockpad under installations.  Shockpad is used in children's playgrounds, particularly under climbing equipment.  It's a 100% recycled, open cell shock pad safety option which meets Australian Critical Fall Height Standards and reduces the impact of falls.
More residential facilities in Perth are realizing the benefits of synthetic grass surfaces for recreational areas such as bowling, putting and even croquet greens.  Artificial lawn provides a non-slip surface for use around swimming pools and makes an attractive and practical surface for indoor & outdoor courtyards all year round.  You may even find you have an unused corner of your facility where a playground can be installed for the enjoyment of your residents & their grandkids.
All our installers are employed on a full-time basis and have been working for us for many years.  They are neat, tidy & reliable and we guarantee the minimum amount of disruption during the installation process.
For more information and to organize a time for a consultation at your facility, phone Green Planet Grass on 9209 2669.  Our experienced consultant can advise on how to best integrate our synthetic lawn into existing or proposed landscaping.
At Green Planet Grass our Australian Made synthetic lawns don't look like fake grass.