Green Planet Grass has recently completed an installation of artificial turf at a public playground in a local park in the southern suburbs of Perth. Our 35mm landscaping grass "Saturn" was used. This is an extremely popular and hardwearing product that is used for both private & public installations.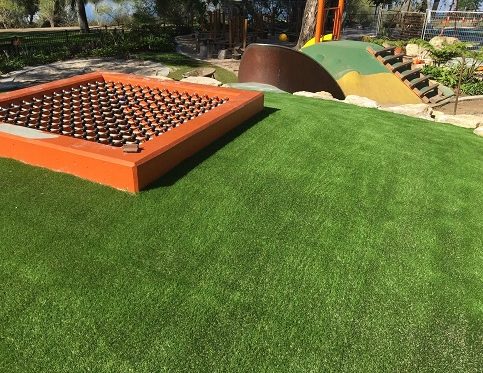 Whether your playground is situated in a Child Care Centre, Kindy, Pre-school or local park, we have the playground surfaces and installation systems to suit your needs.
One of the most important factors in these installations is safety. We offer a 100% recycled, open cell shock pad safety option (specifically for use under and around playground equipment). This shock pad meets Australian Critical Fall Height Standards.
Synthetic grass with a professionally installed base, makes a firm & stable surface for children with disabilities to more easily access play equipment.
Another one of the many benefits of synthetic grass around play equipment rather than sand is that no dangerous & unpleasant items such as syringes & broken glass, can be concealed. This makes the play area safer and easier to maintain.
Customised lines & colours can be incorporated, creating a range of activity zones in your playground.
Multi-functional surfaces are also available which are suited to stand up to the wear & tear of bikes & trikes.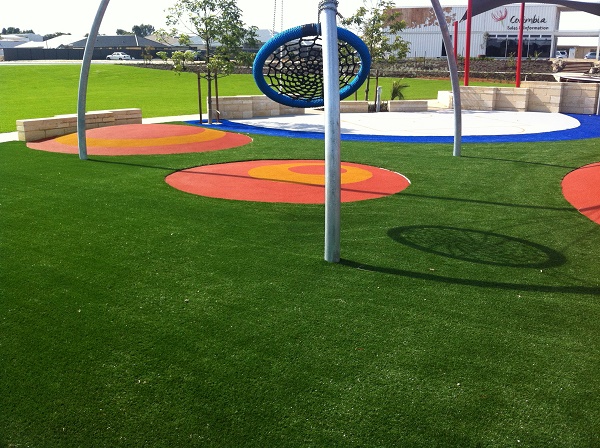 All our synthetic lawns are Australian made to Australian & New Zealand safety standards and are manufactured to Quality Assured Standards (ISO 9001:2008). They are heavy metal free and contain no dangerous toxins. All GPG grasses are fire retardant and won't shrink or fade in the harsh Australian environment.
Green Planet Grass has been installing high quality synthetic lawn and grass systems for Residential, Commercial & Sporting applications since 2008. Our clients include home owners, businesses, sporting clubs, government departments & local councils.
For more information on our Australian Made synthetic lawn or to organize an obligation free measure and quote, phone 08 9209 2669.
At Green Planet Grass our Australian Made synthetic lawns don't look like fake grass.